Shopping Cart
Your Cart is Empty
There was an error with PayPal
Click here to try again
Thank you for your business!
You should be receiving an order confirmation from Paypal shortly.
Exit Shopping Cart
Footpaths Aromatic Reflexology
Where you are only 2 feet away from better health!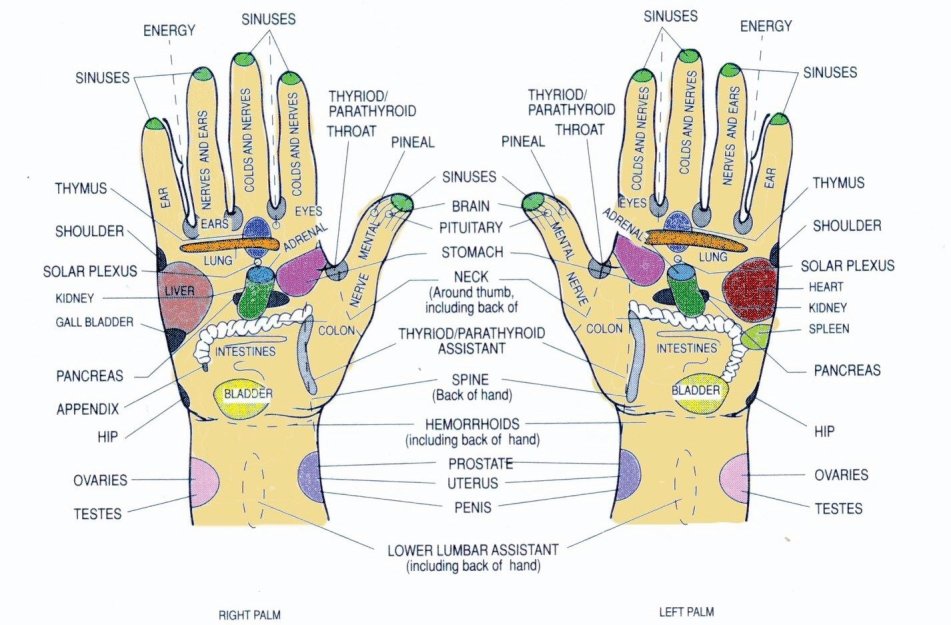 Fall is in the air. You can almost tell the exact moment when it hits can't you? You walk into the grocery store to grab a gallon of milk while it is still Summer and walk out into Fall. If the crisp air, pumpkin spice lattes and colorful leaves haven't given you the tip, chances are your sinuses have. What a time to have to slow down. It feels so good, you actually want to be outside. School is in swing, tailgating for football is a must and that fall festival is getting closer and closer. The good news is that you can take your sinus issues into your own hands, literally!
We've mentioned it here before, but the hands, like the feet, are a map to every organ in your body and by gently massaging individual pressure points, you can provide the balance you need to thrive. 
So what about those sinuses? As you can see, the sinuses (in bright green on the diagram) are located at the tips of the fingers (and toes). When we are feeling the pressure, we like to gently massage the tips of each finger alternately as well as giving our lungs a little extra power by running our thumbs along the base of the fingers. It is so easy, you can do it while cooking, cleaning, watching tv, going for a walk outside, enjoying a tailgate, you name it!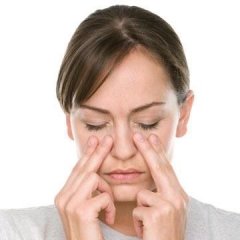 "PRESSURE. Pushing down on me, pushing down on you." Sinus pressure is not letting up! We are in the thick of it people and we have to do something before our heads burst. Last week we talked about the points on your feet, this week, we are focusing on the pressure points on the face that are so closely associated with all the sinuses pressure that leaves us feeling groggy and foggy.
These points seems some somewhat intuitive. They are the natural points you tend to touch when you start to feel uncomfortable. So spend time pressing, tapping and massaging your way to relief!
!. The Eyebrows
Place pressure with your thumbs upwards and slowly move outwards. It's a great pressure point for relieving pressure behind the eyes.
2. In Between Your Eyes
You can press or tap the point located just above the bridge of your nose, in between your eyebrows, for around a minute. This helps the mucus to secrete properly, preventing the sinuses drying up and becoming inflamed and often infected.
3. Bridge of the Nose
To activate these points located at the very top of either side of your nose, press in and upwards. It plays a big part in relieving pressure behind the eyes due  to sinuses. 
4. Either Side of the Nostrils
Press down just outside of both nostrils. This will help the sinuses to drain more effectively and is fantastic for relieving pain in and behind the cheeks. Use two fingers and press against these points with your fingers at 90 degrees to the face.
Want all of these pressure points (and a few more) activated? Try a sinus massage from your reflexologist. You will breathe easier and feel a lot better too!
So what does it mean when we say something to the effect of "Let's work on your sinuses," as we work on your feet. No we are not crazy. Its a little thing we like to call footmapping.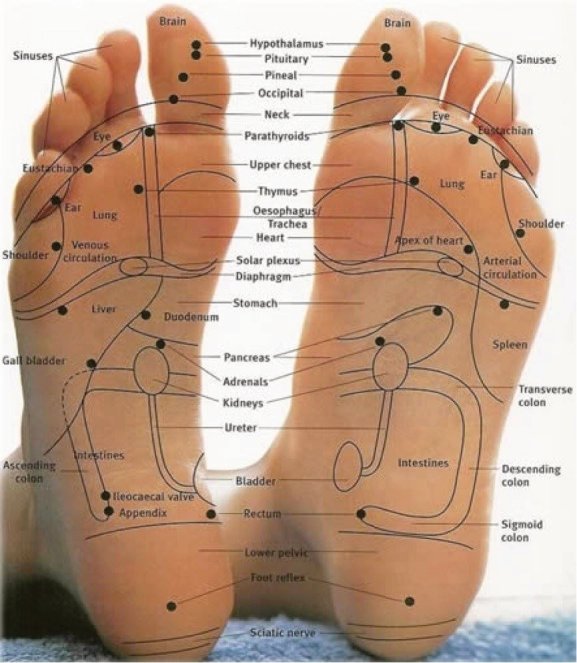 Believe it or not, your feet are the path to vital organs in your body! Focusing on manipulating these zones during a reflexology session you can improve your overall health by improving the function of your organs. 
Now that we have that quick lesson in footmapping out of the way, let's talk about sinuses, because according to the bees, pollen is out there. It started with pressure in my head, then a full blown headache, followed by my nose draining like the faucet in my house that I have come to think as part of the family. The nose drainage, not such a welcome guest.
Sinus issues come with the territory of Spring. A necessary evil during the best time of the year. So let's talk about ways to keep sinuses clear, moving and in check so your days outside aren't followed by a week inside feeling miserable.
This is something that is pretty simple. You can start working on your sinuses at home at the first sign of trouble. Stay hydrated, and work the tips of your fingers and toes by squeezing their tops in a rhythmic fashion for five seconds. It so is simple, you can do it in public without anyone noticing (your fingers, NOT your toes, please not your toes in public).
We pair this reflexology along with essential oils that help to clear the sinuses as a one-two-punch to get you feeling like yourself again!
/