Shopping Cart
Your Cart is Empty
There was an error with PayPal
Click here to try again
Thank you for your business!
You should be receiving an order confirmation from Paypal shortly.
Exit Shopping Cart
Footpaths Aromatic Reflexology
Where you are only 2 feet away from better health!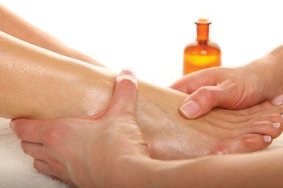 Happy Monday! Mondays get a pretty bad reputation don't they? I personally like to look on the bright side of things and say that Mondays means only FOUR more days until the weekend! Whatever works right?
Let's get right down to the topic again today. Essential oils. I use essential oil blends on practically all my clients (unless they request otherwise). The benefits astound me everytime. They add the extra punch in a 1-2 punch when balancing and aligning your health. But why do we put oils on our feet? 
1. The bottoms of our feet are known to be one of the strongest places of the body.  Our feet support our weight for at least several hours a day. That is no easy feat (pun intended). 
2. The skin on the soles of the feet are far less sensitive than the skin throughout the rest of the body, allowing us to use oils that the body needs but can sometimes cause a mild skin irritation elsewhere for people with sensitive skin.
3. While the skin may be thicker on the bottoms of our feet, they house some of the largest pores on our body. This allows the essential oils to be absorbed very quickly, some within 20 seconds!
4. Sometimes a particular oil might smell a little more medicinal than pleasant. Each oil blend is unique. Whether it is sinuses or arthritis or hormones, the oil will smell different. Now, I love almost all oils and how they smell, but that doesn't mean you will. Applying the oils to the soles of the feet and then covering with socks lets us get the benefits from our oils, without having to smell the constant potency.
And last but not least, our favorite reason to use essential oils on the bottoms of the feet:
5. The bottoms of our feet are connected to the rest of our body. If you have been with us for any length of time, you have heard this before and we will keep saying it. So when we use essential oils on the bottoms of the feet, we are able to direct the benefit of the oils towards specific organs in the body. How cool is that? How healing is that? 
Monday morning blues got you down? Give us a call, and I'll oil you right up!
And by muffins we mean muffin tops. As in that extra tummy that spills over jeans that are too tight. Not something any of us want, but we deal. So why is it that belly fat is the last to go? We exercise and our legs look great and our arms tone up, but our tummies still stay the same. Stress. 
When we are stressed, our bodies produce three hormones, one of which is cortisol. This hormone is responsible for getting your body back to normal after it has experienced stress. The problem is when we experience chronic stress, which our high-paced lifestyles tend to throw at us, these cortisol levels go up, but never go back down.
When your cortisol levels are high, your body hoards the fats you eat. Not only that, it takes fat from healthier areas, like your hip and butt and move it to your tummy. And of course, your tummy has more cortisol receptors, Hello Muffin Top! This ab flab then leads to more cortisol production because it has higher concentrations of an enzyme that converts inactive cortisone to active cortisol. 
The more belly fat you have the more belly fat you will have.
That is a scary thought.
So what to do? De-stress your routine. I know what you're thinking. You don't have time to de-stress. But studies have shown that 10 minutes of meditation a day can reduce your cortisol levels by up to 60% when done consistently.
Not to mention adding reflexology into the mix. Through the process of relaxation through reflexology, the body is more capable of dealing with stress placed on it by daily living. Reflexology releases feel-good hormones that help to improve blood and lymph circulation, increase nerve supply to the cells and release toxins from the body's tissues. Most importantly reflexology supports self-healing which is the only-long term cure for belly fat. Bodies need the ability to take on stress, and get rid of it just as easily.
So what does it mean when we say something to the effect of "Let's work on your sinuses," as we work on your feet. No we are not crazy. Its a little thing we like to call footmapping.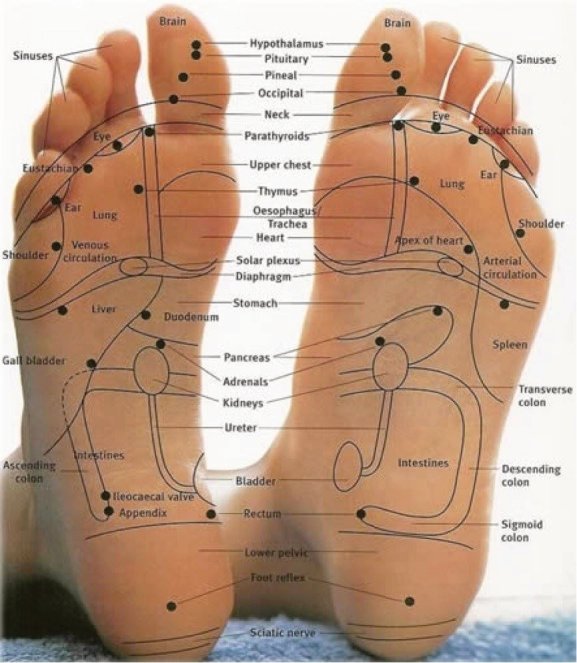 Believe it or not, your feet are the path to vital organs in your body! Focusing on manipulating these zones during a reflexology session you can improve your overall health by improving the function of your organs. 
Now that we have that quick lesson in footmapping out of the way, let's talk about sinuses, because according to the bees, pollen is out there. It started with pressure in my head, then a full blown headache, followed by my nose draining like the faucet in my house that I have come to think as part of the family. The nose drainage, not such a welcome guest.
Sinus issues come with the territory of Spring. A necessary evil during the best time of the year. So let's talk about ways to keep sinuses clear, moving and in check so your days outside aren't followed by a week inside feeling miserable.
This is something that is pretty simple. You can start working on your sinuses at home at the first sign of trouble. Stay hydrated, and work the tips of your fingers and toes by squeezing their tops in a rhythmic fashion for five seconds. It so is simple, you can do it in public without anyone noticing (your fingers, NOT your toes, please not your toes in public).
We pair this reflexology along with essential oils that help to clear the sinuses as a one-two-punch to get you feeling like yourself again!
/