Shopping Cart
Your Cart is Empty
There was an error with PayPal
Click here to try again
Thank you for your business!
You should be receiving an order confirmation from Paypal shortly.
Exit Shopping Cart
Footpaths Aromatic Reflexology
Where you are only 2 feet away from better health!
| | |
| --- | --- |
| Posted on March 29, 2015 at 12:17 PM | |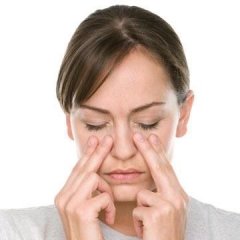 "PRESSURE. Pushing down on me, pushing down on you." Sinus pressure is not letting up! We are in the thick of it people and we have to do something before our heads burst. Last week we talked about the points on your feet, this week, we are focusing on the pressure points on the face that are so closely associated with all the sinuses pressure that leaves us feeling groggy and foggy.
These points seems some somewhat intuitive. They are the natural points you tend to touch when you start to feel uncomfortable. So spend time pressing, tapping and massaging your way to relief!
!. The Eyebrows
Place pressure with your thumbs upwards and slowly move outwards. It's a great pressure point for relieving pressure behind the eyes.
2. In Between Your Eyes
You can press or tap the point located just above the bridge of your nose, in between your eyebrows, for around a minute. This helps the mucus to secrete properly, preventing the sinuses drying up and becoming inflamed and often infected.
3. Bridge of the Nose
To activate these points located at the very top of either side of your nose, press in and upwards. It plays a big part in relieving pressure behind the eyes due  to sinuses. 
4. Either Side of the Nostrils
Press down just outside of both nostrils. This will help the sinuses to drain more effectively and is fantastic for relieving pain in and behind the cheeks. Use two fingers and press against these points with your fingers at 90 degrees to the face.
Want all of these pressure points (and a few more) activated? Try a sinus massage from your reflexologist. You will breathe easier and feel a lot better too!
Categories: Allergies, Footpaths, homeopathic, natural healing, newnan, pressure points, reflexology, sinus massage, sinuses
/