Shopping Cart
Your Cart is Empty
There was an error with PayPal
Click here to try again
Thank you for your business!
You should be receiving an order confirmation from Paypal shortly.
Exit Shopping Cart
Footpaths Aromatic Reflexology
Where you are only 2 feet away from better health!
| | |
| --- | --- |
| Posted on April 27, 2015 at 9:08 AM | |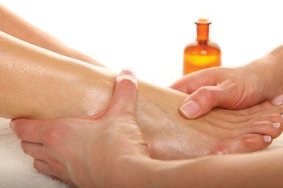 Happy Monday! Mondays get a pretty bad reputation don't they? I personally like to look on the bright side of things and say that Mondays means only FOUR more days until the weekend! Whatever works right?
Let's get right down to the topic again today. Essential oils. I use essential oil blends on practically all my clients (unless they request otherwise). The benefits astound me everytime. They add the extra punch in a 1-2 punch when balancing and aligning your health. But why do we put oils on our feet? 
1. The bottoms of our feet are known to be one of the strongest places of the body.  Our feet support our weight for at least several hours a day. That is no easy feat (pun intended). 
2. The skin on the soles of the feet are far less sensitive than the skin throughout the rest of the body, allowing us to use oils that the body needs but can sometimes cause a mild skin irritation elsewhere for people with sensitive skin.
3. While the skin may be thicker on the bottoms of our feet, they house some of the largest pores on our body. This allows the essential oils to be absorbed very quickly, some within 20 seconds!
4. Sometimes a particular oil might smell a little more medicinal than pleasant. Each oil blend is unique. Whether it is sinuses or arthritis or hormones, the oil will smell different. Now, I love almost all oils and how they smell, but that doesn't mean you will. Applying the oils to the soles of the feet and then covering with socks lets us get the benefits from our oils, without having to smell the constant potency.
And last but not least, our favorite reason to use essential oils on the bottoms of the feet:
5. The bottoms of our feet are connected to the rest of our body. If you have been with us for any length of time, you have heard this before and we will keep saying it. So when we use essential oils on the bottoms of the feet, we are able to direct the benefit of the oils towards specific organs in the body. How cool is that? How healing is that? 
Monday morning blues got you down? Give us a call, and I'll oil you right up!
Categories: essential oils, footmapping, Footpaths, holistic care, natural healing, newnan, pressure points, reflexology, remedies, stress
/