Shopping Cart
Your Cart is Empty
There was an error with PayPal
Click here to try again
Thank you for your business!
You should be receiving an order confirmation from Paypal shortly.
Exit Shopping Cart
Footpaths Aromatic Reflexology
Where you are only 2 feet away from better health!
| | |
| --- | --- |
| Posted on May 11, 2015 at 1:19 PM | |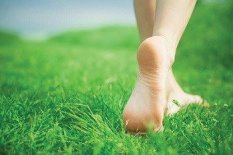 The need to "earth" has only recently come onto the scene. Recently as in, the last few decades or generations. Let's just face it. Most of us have become "city folks." Even if we don't technically live in the big city, we are more likely to sit inside and watch a movie or surf pinterest than we are to go outside and play barefooted. It is what it is.
So what are we missing out on? A. LOT. Believe it or not, when you are connected with the ground, say through walking barefoot in grass or even gardening with bare hands, you are exchanging electrons with the earth. It acts as a detox for your body. This allows for better sleep. reduced stress and tension, less pain and better immune function. Not only that, but it could potentially eliminate the harmful effects of electromagnetic fields given off by all the electronic devices in our world (think cell phones people).

So how can you earth? So easy!
1. Walking outside barefoot
2. Sitting on the ground
3. Gardening without gloves (think hands in the dirt).
4. Even small things like mud masks!
According to earthing experts, electrons drawn into the body from the earth neutralize damaging free radicals and by extension reduce disease-related chronic or acute inflammation. 
So how does this relate to reflexology? Walking barefoot (the most common way to earth) stimulates the pressure points on the feet. If you've been with us for any time at all, you know that those pressure points directly correlate to the systems in your body. Stimulating the points means stimulating the whole body, Detoxing the whole body!
How cool is that?
Categories: detox, earthing, footmapping, Footpaths, holistic care, homeopathic, natural healing, newnan, pressure points, reflexology, remedies
/